Riding the entire RAGBRAI route can be a challenge all its own, but can you imagine doing so with dozens of people hanging from your jersey?
Linda Muller, program associate in the Department of Epidemiology in the College of Public Health, isn't literally slinging people over her shoulder as she rides hundreds of miles across Iowa, but in her role as "The Ribbon Lady," she is bearing the names of people who have or had cancer.
Muller and her husband, Jim Sirois, assistant manager of University Book Store, are again riding RAGBRAI as part of Team LIVESTRONG, which is affiliated with the Lance Armstrong Foundation. Muller's LIVESTRONG jersey will be adorned with yellow ribbons; each ribbon carries a name. The goal is to have 454 ribbons this year—one for each mile covered by RAGBRAI riders.
"When I got involved with the team, I wanted to do something beyond raising funds—I really wanted to be an advocate and a supporter for the cause," Muller says. "So if I put ribbons on my jersey, how many could I get? So I set the goal of getting one for every mile of the ride."
Muller has been wearing the ribbons during RAGBRAI for the past few years. She first rode a portion of RAGBRAI in 2005, inspired after completing a 40-mile ride for multiple sclerosis on Father's Day earlier that year. (Her father had multiple sclerosis.) She hadn't done a lot of training leading up to her three-day RAGBRAI excursion—"a rookie mistake," Muller admits—but she saw things on the ride that put her pain in perspective.
"Some of my fellow riders were overcoming some serious obstacles—lost limbs, things much more daunting than the simple hills that challenged me," Muller says.
Muller and Sirois' involvement with Team LIVESTRONG demands more than just riding a bike from the Missouri to the Mississippi. They are each required to raise $1,500 for RAGBRAI. Team LIVESTRONG's RAGBRAI efforts have raised $1.2 million over the past five years.
It was during this ride that she encountered some Lance Armstrong Foundation volunteers. Her brother in 1990 had been diagnosed with testicular cancer, the same form of the disease that afflicted Armstrong; her brother was treated and has been in remission ever since. Thinking both about the pain of cycling and the pain of recovery involved with cancer treatment, she was determined to do something.
Muller later did some web research about joining Team LIVESTRONG for future RAGBRAI rides. She joined the RAGBRAI team in 2007, and before long her "Ribbon Lady" alter ego was born.
Sirois, who joined Muller on Team Livestrong in 2009, also experienced the effects of cancer within his own family. When one of his cousins, Kathy, was diagnosed with cancer, Sirois and his siblings and fellow cousins all willingly were tested in hopes of finding a bone marrow transplant candidate. No such luck. Kathy underwent stem cell transplants before passing away in 2010.
"Kathy was someone who made an impact on people; she would go out of her way to make sure people were comfortable and having a good time," Sirois says. "She's a source of motivation for my ride. I hope I can have some sort of impact as well."
Sirois wasn't exactly an avid cyclist when he and Muller started dating. "I wanted to spend as much time with her as I could," Sirois says. "She told me that she liked to bike, so I had two choices: wait around while she was riding, or get in the saddle myself. I found it to be a lot of fun."
One particular ride piqued Sirois' interest in joining Team LIVESTRONG. Muller invited Sirois to ride along with her and some of her LIVESTRONG teammates in Des Moines. The ride was a fund-raiser for a 2-year-old girl who was dealing with a recurrence of cancer.
"I could do something that really made a difference, all by doing something as simple as riding a bike," Sirois says. "I was bringing up the rear, perhaps, but everyone told me it didn't matter—it was all about helping this girl and her family.
"It was amazing to see all of these people getting involved, and the emotion they invested in this cause."
Meeting Lance…and being miles apart
Armstrong himself gets involved with the RAGBRAI effort, riding at least part of the route in recent years. In 2007, Muller got the opportunity to meet Armstrong.
"I was pinning the ribbons to the next jersey—I don't wear the same jersey all week, so I have to transfer the ribbons—and Lance was brought over and introduced to some of my teammates. I stood up, but Lance walked away before I had the chance to talk to him.
RAGBRAI will be stopping in Coralville on Friday, July 29. For more information about RAGBRAI's Coralville stop, visit www.coralville.org/index.aspx?NID=466.

Follow the Ribbon Lady on Facebook: www.facebook.com/
RibbonLady4LIVESTRONG.
"One of my teammates made sure that Lance was introduced to me—it was a bit loud, a bit embarrassing! I shared my cancer connection with him, and then asked him if I could put his name on one of my ribbons. He said it would be an honor."
Muller and Armstrong did have a little disagreement, though.
"I told him I was trying to get 477 ribbons, which was the length of the route that year," Muller says. "He said, 'Shouldn't that be 462?' I was going with what the Des Moines Register had listed—not that I wanted to have a big argument with him or anything."
They chatted a little bit more, then parted ways. The Ribbon Lady made a definite impression, though. A couple of days later, Doug Ulman, president and CEO of the Lance Armstrong Foundation, was being interviewed near the LIVESTRONG bus, and had mentioned how long the route was.
"Lance pops his head out of the bus window and says, 'Doug, it's four hundred seventy-seven miles,'" Muller says with a laugh. "That was pretty cool."
(Armstrong's interjection can be seen at the 2:17 mark of the following video.)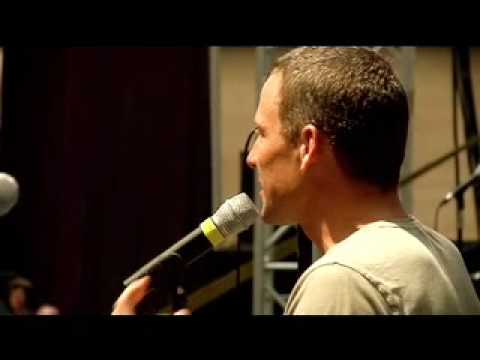 Every family is entitled to a disagreement or two, and Muller and Sirois both agree that Team LIVESTRONG has a family feel to it.
"Every year, the team just gels into this amazing support group," Muller says. "Everyone on the team has been affected in some way. Someone they've loved has gone through cancer, or they've gone through it themselves."